It is the ability to choose that makes us human. - Madeleine L'Engle
Specifications are a written document for organizing the graphic information depicted on the Drawings. All the construction details are shown on Drawings as they relate to one another, with no attempt to separate diverse materials. It is the Specifications that break down the interrelated information shown on Drawings into organized, technical sections so Trade Contractors and Suppliers are more able to identify the work to be performed. Since they are written instructions, Specifications are frequently adjudged by the courts as having greater importance than Drawings when these documents are in conflict, and judgments are frequently resolved on the basis of the Specifications.
Some valuable resources for decision making are the numerous trade, professional, and consumer organizations that establish construction standards and will provide product specifications or installation information to the general public as well as their membership.
Consumer Reports Online is the Web's source of unbiased information about products and services based on testing conducted in their extensive state-of-the-art laboratories. The site offers two levels of access. Visitors can get solid consumer advice for free. Paid site subscribers have access to exclusive product and service Ratings and recommendations. You can subscribe for $4.95 per month, or $26.00 for a full year. (Or Consumer Reports magazine subscribers can have full access to Consumer Reports Online for just $19 per year.)
As you develop written specifications for your home design and building project, these product search engines will be very helpful for locating manufacturers and/or determining industry standards:
These information resources are helpful to the consumer and professional alike. The resources are organized chronological by phases of work as they may occur during the build sequence.
Sitework and Civil Engineering
Concrete Foundation and Flatwork Installation
Frame Structures
Roofing Materials and Installation
Door and Window Installation and Maintenance
Plumbing Installation and Maintenance
Heating, Ventilation, Air Conditioning, and Refrigeration
Geothermal (Ground Source) Technology
Electrical Installation and Maintenance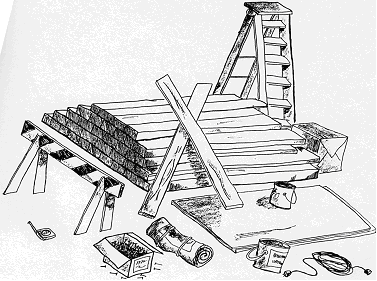 Insulation Installation and Energy Performance
Hardwood Floor Installation and Maintenance
Floor Coverings
Gypsum Wallboard Installation
Paint & Stain Preparation, Installation and Maintenance
Bath and Kitchen Remodeling
Cabinet and Millwork Installation and Maintenance
Landscape Installation and Maintenance
General and Specialty Contractors
Tools and Hardware
Television Shows
Working in combination, these informational resources provide consumers with a very integrated approach to remodeling or new home construction project by collaborating with the building community. The homebuilding experience is as much about developing relationships with people you know and trust as it is about creating a home style to match your life style.
REMEMBER: Every region has special geological, biological, and meteorological conditions which must be taken into consideration when writing Specifications. For instance, in some regions radon gas emits naturally from geological formations, and will enter your home through the soil below the foundation. Special ventilation will be required to rid your home of this gas. Another example would be hurricanes or tornadoes which may be part of your region's regular weather pattern; if so, extreme wind forces will be placed on your home. The foundation and roof assembly will require additional hardware for a positive, uniform connection.
Pay attention to natural phenomena affecting Design/Build considerations and consult your local Building Department during Design Development.
Specs are the engine that drives the home building vehicle!