The person who knows "how" will always have a job. The person who knows "why" will always be his boss. - Diane Ravitch
Traditionally, the practice of General Contracting was to perform the majority of field work with employees under the guidance of a master craftsman. A General Contractor's reputation was often based on the expertise of skilled workers who had been with the company for a number of years combined with the qualifications of a well-rounded journeyman/business owner.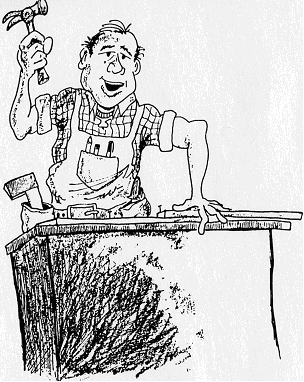 Currently, the trend in building construction places LESS emphasis on General Contracting and more emphasis on Construction Management. The reasons for this shift are primarily economic and technological considerations because a specialist is usually more efficient and knowledgeable so GC's are turning more to managers of a building process rather than craftsmen involved in every phase of work. Many factors enter into the decision to primarily rely on Trade Contractors for each specific phase of a construction project. The advantages of "managing" a project begin to outweigh the disadvantages of do-it-yourself when deciding how to delegate responsibilities.
ADVANTAGES
* Greater flexibility
* Less waste
* Less overhead
* Improved quality
* Improved schedule
* Less detailed supervision
* Less risk
* Less capital investment
* Less bookkeeping
DISADVANTAGES
More coordination of external resources
Possibility of unqualified contractors
Supply and demand makes contractors less available
* Requires more contract negotiation
* Quality Control of other people's work
* Requires accurate Drawings and Specifications
For the purpose of this guide we assume that you are hiring Trade Contractors as an Ownerbuilder. Locating a qualified contractor can be a hard task but the reward for perseverance is the successful completion of your project with a contractor you know and trust. This list of ways to qualify a contractor is comprehensive and may seem overwhelming but it's your first step toward quality control of your remodel or new home construction project.
This list will assist you in your search for a qualified contractor!
Ask the contractor for full documentation. This will include:

Contractor's License & Registration Number
Proof of Liability Insurance covering property damage and personal claims
Proof of Bond Coverage for total replacement cost of your project
Proof of Worker's Compensation Insurance for employees

Call your state's agency having jurisdiction over contractor's license registration to verify the contractor is currently licensed as required by state law.
Ask the contractor for a resume. This will include:

Legal name, street address, city, zip code, phone number
Number of years in contracting business, education, and training
Financial stability of business and relationship to your Bank
Credit standing with suppliers and terms of payment
References of previous customers with jobs similar to yours

Call the Better Business Bureau in your region to find out if past customers have complained about the contractor.
If you can, visit the contractor's current site to see if the contractor:

Maintains a stable and reliable crew
Performs their craft in a skillful and professional manner
Provides adequate site supervision
Cooperates well with other trades
Offers fair prices and remains cost conscious
Uses material efficiently & effectively
Keeps site clean and safe

Ask the current client of the contractor these questions:

Does the contractor begin/end on schedule?
Is the crew adequate for size and scope of work?
Does the work successfully pass inspections?
How responsive is the contractor to problems?
Is the contractor available by voice mail, beeper, or email?

Be sure to ask the contractor for a copy of the standard contract for your review. Never sign a blank, standard contract. Check the contract for terms on these issues:

Total Contract Price & Terms of payment
Change Order practices
Reference to Drawings and Specifications
Responsibility for Permit Application & Inspection Schedule
Start Date & Completion Date
Contractor's Mark-up on Labor & Materials
Conflict Resolution & Termination
Use of Lien Waiver AT TIME OF EVERY PAYMENT
Locating a qualified Trade Contractor can be an arduous task. You start with the products and materials that you know you'll be using in your home. As the end user, you know what you want better than anyone else! This description of materials specifies what products you'll be incorporating into your home style.
Do you have a set of specifications to complement the drawings?
Specs are a written description of all the products and materials you'll be using in your Drawings. Drawings and Specifications go hand in hand toward successful control of your project.
Once you have your Specs, you can find your local suppliers by networking through the product manufacturers that you've identified in your Specs. Your local suppliers are located as a result of your product choices.
This creates an ACCOUNTABILITY CHANNEL for pricing of products and materials you'll be using in your new home. Work with Trade Contractors who originate from each supplier who distribute the manufacturers' products that you've specified for your new home. To find good Trade Contractors, discover them through your material supplier, asking for their PREFERRED CONTRACTOR LIST.
For every phase of work, each respective supplier knows the contractors who pay their bills on time, create few problems, follow manufacturer's installation instructions, and adhere to a schedule. For instance, the sales manager at your local building supplier or lumber yard will refer you to framing contractors; at your local plumbing supplier, you will be given their preferred contractor list; and, so forth.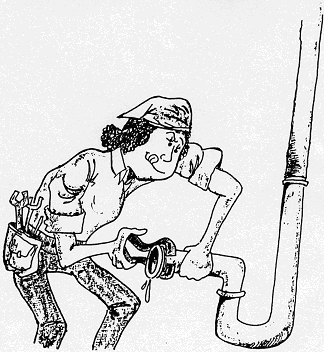 AS AN EXAMPLE: You need to decide what type of cabinets appeal to you. Once you've chosen a type of cabinet (you can do this online), you'll contact the manufacturer for a list of the suppliers in your area.
You can visit the suppliers' showrooms (assuming that you'll contact several different businesses) to discuss the product line, the cost of product plus installation AND ask for their preferred contractor list.
If you're trying to find contractors to install your products, then you want to start with drawings and Specs...especially Specifications.
Follow the accountability channel from manufacturer, then to your supplier, and finally to the contractors recommended out of the local store in your area.
If the local supplier isn't helpful, send an email to the customer service representative at the manufacturer's web site explaining that their local supplier is not helpful to you providing product and installer information...and, ask who the local supplier might be who's responsive to your needs and inquiries.
Once a Trade Contractor is chosen, you must have the managerial ability to schedule, coordinate, and control the contractor's work on your job so that work proceeds on time, within the established budget, and according to the quality specified. Always be prepared to pay fair market value for work performed so the contractor will be able to meet payroll and overhead costs, pay their suppliers, and still make a profit. The best Trade Contractors are always busy so there should be no problem visiting their projects to observe the crew and the quality of work.
CHEAP CONTRACTORS ARE NEVER INEXPENSIVE.
Cheap Trade Contractors may get the job for a cheap price, but you can probably count on work that is just as cheap. If you are paying a fair price for the work to be performed you will foster trust and cooperation with your contractor from the beginning of the project. You can make the job run even smoother by being ready when contractors when they arrive on your site. In addition, provide as much lead time as possible to inform the contractor of the status of your job and any unexpected conditions which must be met.
REMEMBER: If you don't have the time or inclination to manage your own project, then a General Contractor or Construction Manager will go this job for you. A GC or CM will go through the same process of finding the right Trade Contractors to perform the work according to Drawings and Specifications under a prescribed set of Conditions. No matter which way you turn, the general trend in the construction industry is to delegate responsibilities through a standard bidding process.
Here is a "Standard Bidding Process" which summarizes how bid proposals are solicited from Trade Contractors and Suppliers. Follow it as a general guide adapting the process to fit your situation.
FOLLOW A STANDARD BIDDING PROCESS:
Finalize Drawings and Specifications
Locate potential Suppliers & Trade Contractors
Finalize design and product requirements
Prepare each Supplier and Trade Contractor file

Information sheets
Preliminary Agreement and Conditions documents
Preliminary Purchase Order form

Contact Supplier and Trade Contractors

Mention project requirements
Discuss Contract terms
Develop Purchase Order form

Ask Suppliers and Trade Contractors to submit proposal
Receive and evaluate completed proposals

Review for completeness: Disclosure and Legal statements
Require full documentation: warranty & installation instructions

Select the best bids

Price, quality, schedule, conditions
Supplier/Trade Contractor Qualifications
Compare Bids against Budget

Submit counter-offers to Suppliers and Trade Contractors

Clarify Drawings and Specifications
Review Supplier/Trade Contractor Qualifications

Negotiate with prospective Suppliers and Trade Contractors

Refine Contract Documents
Refine Purchase Orders

Select "best" Supplier and Trade Contractor

Sign Agreement with Suppliers & Trade Contractors
Reiterate Conditions based on Drawings/Specifications
Mail completed Purchase Orders to Suppliers & Trade Contractors

Contact contractors who were not awarded the contract

Use standard form letter
Let them know as soon as possible

Maintain communications with Suppliers and Trade Contractors
Schedule work to be performed
Check work with Drawings and Specifications
Compare Invoice to Conditions and Purchase Order
Obtain notarized "Lien Waiver" from Trade Contractors and Suppliers
Make Payment for work performed
Don't forget: Follow the Accountability Channel!